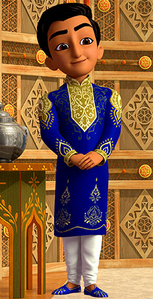 Prince Veer is a character from Disney Junior animated series Mira, Royal Detective. He is the oldest prince of Jalpur. He is snobby, princely, and mannered. He likes samosas and it takes a lot to impress him. He is the future king of Jalpur.
Apperance
Prince Veer has olive skin, brown-hazel eyes, and dark brown hair. He wears a blue and gold patterned shirt with white pants.
Personality
He is overconfident, arrogant, and stubborn.He perfers everything neat and tidy, also he enjoys being praised, and hates when people disrespect or mistreat him.He is also snobby, mannered and princely.
Portrayals
Gallery