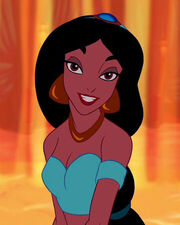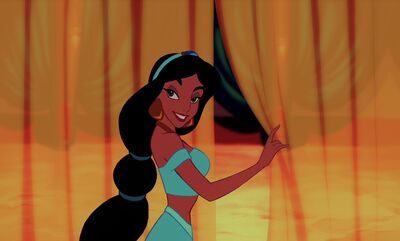 Princess Jasmine is a beautiful Arabian princess and the deuteragonist of Disney's 31st full-length animated feature film Aladdin and a supporting character in The Return of Jafar and Aladdin and the King of Thieves. She is the love interest and later wife of the titular protagonist, Aladdin. She is the first Disney Princess to be of non-Caucasian.
She was voiced by Linda Larkin, with Lea Salonga doing her singing voice (Liz Calloway did her singing voice in the sequels). In the live action film, Jasmine was portrayed by Naomi Scott in the live action reboot of Aladdin, and she was also portrayed by Karen David in the television series Once Upon a Time.
Personality
Jasmine is a rather multi-layered character; incredibly independent, fearless, and strong in many ways. She isn't afraid to speak her mind, no matter who she is up against; whether it be her father, Jafar, or some other villain corrupting Agrabah, Jasmine won't hesitate to stand up for what's right, mostly for the safety of others as opposed to herself. This aspect of her character is greatly explored in the television series, where it is shown Jasmine is very much ruler of Agrabah alongside her father, as opposed to the stereotypical princess that merely sits around on the sidelines. She is shown to take part in most of the political disputes and conversations, often gives suggestions on how to make peace (which, more often than not, come out successful) and is shown to have the same amount of respect her father earns.
Aside from this, Jasmine is extremely compassionate and caring whether towards her kingdom, her family, her friends, and especially Aladdin, whom she treats as a best friend, as well as a lover. Together, the two share a strong bond, always open to each other's tendencies and ideals, and always looking out for one another. She's also a heavy influence on the former street rat's life, often standing as his primary motivation in completing a new goal for the better. As mentioned before, Jasmine cares a great deal about her kingdom and has shown to sacrifice herself many times for the safety of her subjects.
In Disney Princess Enchanted Tales: Follow Your Dreams, it's shown she has an outstanding desire to contribute to her kingdom, in ways that don't include flaunting her status as a princess. However, Jasmine is not without her flaws and foibles. She can at times, be too fussy and opinionated, as well as incredibly stubborn. She can also speak without thinking from time to time.
Several times throughout the TV series (specifically in "Do the Rat Thing") she is shown to have a difficult time accepting when she's wrong, especially to Aladdin in an attempt to deflate his sometimes prominent ego. Even so, she realizes her mistakes in the long run and makes amends for whatever trouble she may cause, no matter the scale or circumstance. A rather famous portion of Jasmine's personality is also her sassy and seductive ways.
Being as opinionated and confident as she is, she's never afraid to give a sarcastic quip or use her sex appeal to cunningly get the better of her antagonists. This would especially come in handy during a period of time in which several suitors (most of which were sexist and greedy) would visit the palace in hopes of marrying the princess.
She as well pretended to be madly in love with Jafar, who was already lusting over her, as Aladdin tried to get the lamp back. She even kissed him passionately, so he does not see him stealing the lamp. This ties into Jasmine's self-defense methods, which are coupled by the protective Rajah, who acts as a bodyguard for the princess on occasions, much to Jasmine's amusement and delight.
Voice Actors:
Linda Larkin (Speaking Voice) - English
Lea Salonga (Singing Voice) - English
Liz Callaway (Singing Voice) - English
Kaori Aso - Japanese
Jannike Kruse - Norwegian
Myrra Malmberg - Swedish
Maggie Vera - Spanish
Marta Barbara - Spanish
Rama Messinger - Hebrew
Hadar Shahaf - Hebrew

Maud Ackermann

- German

Ilia Swainson

- Danish
She is Harry Potter's deceased mother
She is a pink dresser
She played Katara in Avatar: The Last Airbender (PrinceBalto Human Style)
She is a Water Bender
She is a princess
She is a penguin and one of Marina's friends.
She played the owner of Sport in Road Animals
She is a dog owner
She is Loonette's aunt
She is a fashion designer
She is a superhero
She is Andrew's very beautiful adoptive mother
She is a tiger
She played Violet Beauregarde in Wart and the Chocolate Factory
She is a gum chewing princess and she expands into gigantic and enormous blueberry
She played Heather in Baloo The Last Sloth Bear
She is a teenager
She is a scullery maid
She is a Hippie
She played as Adult Odette in The Lioness Princess
She is a princess
She is Ariel's Sister
She is a mermaid
She is Ash's childhood friend
She Played Mako In Sailor Ariel
She played Adult Nala in the Arabian King
She is a lioness
She is Conrad and Sally's mother
She is a clown
She played Nani in

Shanti and Simba
She is Lilo's older sister
She is a mouse and Timmy Brisby's love interest
She is a princess and Derek's wife
She played Chicha in The Man Cub's New Groove
She is Pacha's Wife
She is the Cerulean City gym leader
She is  a Mother
She is a Fire Nation noble
She played Thumbelina in Jasmilina
She is Mulan's mother
Andy's mother
She is Tarzan's girlfriend
She Played Mrs. Ladybug in

Skippy and the Giant Peach
She is a Ladybug
She is a Cat
Kitten
She is a Winged Monster
Princess
Ela a Master builderas
She Played Molly in Mailbox (Arthur)
She is the leader of the Plastics and the (former) main antagonist
She is a Baby Girl
She is a Indian Girl
When the Genie is brought to Wakanda by the Avengers, Jasmine is asked by her brother to help safely extract the Mind Stone embedded on Genie's forehead before ShiverJack could claim the stone for his Infinity Gauntlet. The Black Order soon arrives to collect the stone, forcing the Avengers and the Wakandan military to fight them off in order to buy time for Jasmine to complete the operation while she is guarded by Ayo and Elsa. After Elsa leaves to help the others, however, they are finally confronted by Professor Zundapp, and he incapacitates Ayo. To save Genie, Jasmine reactivates him while she tries to fight against Professor Zundapp, wearing her gauntlets to do so, but she is incapacitated and was unable to complete her work. She is one of the victims of ShiverJack snap.
Relatives
Portrayals:
In Baltladdin Jasmine played by Jenna
In Aangladdin Jasmine played by Katara
In Simbaladdin Jasmine played by Nala
In Dumboladdin Jasmine played by Fluttershy
In Dannyladdin Jasmine played by Sawyer
In Trampladdin Jasmine played by Lady
In Dodgerladdin Jasmine played by Rita
In Todladdin Jasmine played by Vixey
In

Honkerladdin

, Jasmine is played by Gosalyn Mallard
In Orinoladdin Jasmine played by Nellie the Elephant
In Christopher Robinladdin Jasmine played by Jenny Foxworth
In Romeoladdin Jasmine played by Juliet
In Ericladdin Jasmine played by Ariel
In Flynnladdin Jasmine played by Rapunzel
In Tarladdin Jasmine played by Princess Eilonwy
In Dudleyladdin Jasmine played by Kitty Katswell
In Rayladdin, Rayladdin 2: The Return of Joker,

Rayladdin (TV Series)

and Rayladdin 3: The King of Thieves Jasmine played by Mariah Wong
In Kermiladdin Jasmine played by Miss Piggy
In Bernardladdin (Stephen Druschke's Version) Jasmine played by Miss Bianca
In Bartladdin Jasmine is played by

Dani Fenton

In Rickladdin Jasmine played by Ilsa Lund
In Homerladdin Jasmine played by Marge Simpson
In

Ashladdin

Jasmine is played by Misty
In Balooladdin Jasmine Played by Rebecca Cunningham
In Pigletladdin, Pigletladdin 2: The Return of Negaduck, Pigletladdin (TV Series), and Pigletladdin 3: The King of Thieves Jasmine Played by Twigs
In Jiminyladdin Jasmine Played by Honey Lemon
In Milesladdin, Milesladdin II: The Return of Frollo, Milesladdin (TV Series), and Milesladdin III: The King of Thieves Jasmine Played by Little Red Riding Hood
In Beanstalk Jackladdin Jasmine Played by Goldie Locks
In Kronkladdin Jasmine Played by Belle
In Basiladdin Jasmine Played by Mrs. Brisby
In Redclawladdin played by Sunset Shimmer
In Aleladdin played by Heather
In Tailsladdin (Badly Drawn Rainbow) played by Zooey the Fox
In Texeiraladdin played by Octavia
In Aladdin (Gender-Reversed) played by Aladdin
In Emperor Kuzcoladdin played by Malina
In Enterladdin and Tiggerladdin played by Fillisecond and Bruma
In Courtneyladdin and Trentladdin played by Gwen
In Liloddin, played by Keoni Jameson
In Maxladdin (DinosaurKingRockz) played by Zoe Drake
In Sawyerladdin played by Danny
In

Selenaladdin

and Juneladdin played by Lord Ralphie and Leo
In

Leoladdin

played by June
In Elladdin played by Courtney
In Shawnladdin played by...uh...some other Jasmine (You try typing that cast with the phenomenon of Name's The Same!)
In CJladdin played by Karolina Dean
In

Sunsetladdin

played by Twilight Sparkle
In Yellow Kirbyladdin played by Red Kirby
In CJladdin (Gender Swap) played by CJ Porritt
In Jilladdin played by Yoshimitsu
In Rinladdin played by Ruby (Max & Ruby)
In Aladdin spoof for 400Movies she is played by Eleanor chipette.
In Baileyladdin played by Destiny.
In Arthurladdin played by Francine Fresky.
In Leapladdin played by Lily.
In Timonladdin played by Marlene.
In AiAiladdin played by MeeMee.
In Mowgliladdin played by Shanti.
In Wreck-It Ralph (Aladdin) played by Merida.
In Luigiladdin (Dr. Motobug Style) played by Princess Daisy
In Marioladdin (CartoonFanBoy91) played by Princess Peach
In Izukuladdin played by Ochaco Uraraka
In Hiroladdin will be played by GoGo Tomago
Gallery:
Main Article: Princess Jasmine/Gallery