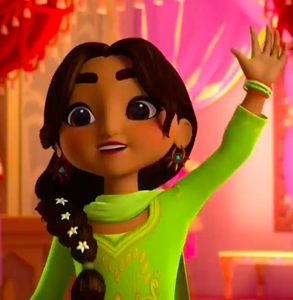 Priya is a main character in Mira, Royal Detective. She is Mira's creative cousin and a friend of Prince Neel. She is also Meena's little sister and daughter of Pushpa and Naveen.
Appearance
Priya is a slender girl with olive skin, brown eyes and a long dark brown hair with small white flowers. She has gold hoop earrings, a light green dress, scarf and leggings, a light blue apron and light blue sandals. Apperently she is Cute and Beautiful.
Personality
Despite her cuteness and beauty, Priya is clever, generous. She is a sweet spirited and caring young girl, is despite modest. She is very witty, dry sense of humor. She can get discouraged if she loses something very inportant to her.
Gallery