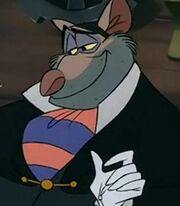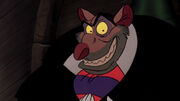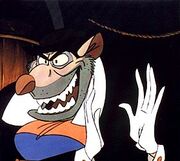 Professor Ratigan is a sewer rat and the main antagonist of the 1986 Disney's film, The Great Mouse Detective.
He's a purple bear
He is the Dark Side of Anakin
He is a cat
He is a plankton
He is an evil huskey
He is a Fierce Indian
He is the Emerald City guard
He js Lenny Fisherman's former best friend
He is the leader of the Gammas
He is a Genie
He is a Lord of The Underworld
He is a Head-Guard
Hs is a Mirror
He is a murderer
He is a sorcerer
He is a wolf
He is a rat
As アヌビス In Yu-Gi-Oh! The Movie: Big Ben of Light 
He is a Demon
As Captain of the Guards in Fievel Hood
He is a Crocodile
He is a Lion Prince
He is a Beast Hunter
He is a pirate
He is a governor
He is a lion
He is a Tasmanian devil
He is a River Guardian
As One of the Titans in Romeocules
He is a Ice Titan
He is Jason and Gunther's evil neighbor
He is a Eel
He is a whale-like alien
He is a rat
He is a Tortoise
He is a Fish Thug
He is a Hyena
He is a Grumpy Prince
He is Leader of the Dark Kingdoom
e is
He is Sherlock's enemy
He is a Grumpy Farmer Cat and Mrs.Brisby's Worst Nightmare
he is Rose Ex Fiancée and Main antagoints
He is an Evil Hamster
He is a Frog Bodyguard
He is an Evil Cat
He is a Chef
He is an evil Coachman
He is a judge
As Sorcerer In Alvinladdin (143Movies Style)
He is a ???
As King In A Baker Street In Central Park
He is a Robber
He is a Greedy Farmer
He is a Ruthless Monkey
He is a Rhinoceros
He is a Demon
He is a Goblin
He is an Immortal made from Angry Wasps
As Farouk The Apple Seller in Fieveladdin
He is a Apple Seller
He is a mad scientist
He is Founder of Team Rocket
He is One of Team Rocket Member and Cassidy's Parenter
He Played Maximillion Pegasus in Yugi-Oh Chris1703
He is a
As Abis Mal in Rodneyladdin (TV Series) and Rodneyladdin 2: The Return of Ratchet
He is a Jafar's new partner
Voice Actors:
Portrayals:
Gallery:
Community content is available under
CC-BY-SA
unless otherwise noted.