Puffa is a steam locomotive who works on the dockside railway at Bigg City Port, and is used for a variety of tasks within the port, the docks, and logging camp up river. He has a speaking role in Up River, an unnamed cameo in the episode High Tide, and a non-speaking role in the episode Munitions. Another locomotive seen around Bigg City Port, The Goods Engine, has a lower whistle-sound, but features North American styling similar to that on Puffa.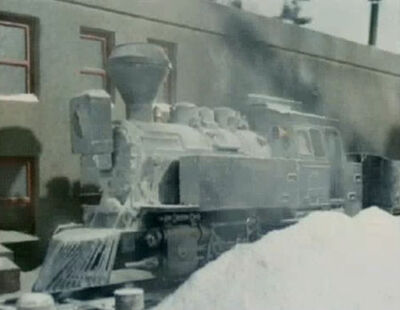 Bio
Puffa is frequently shown to be a firm friend to the Star Fleet. His relationship with the Zero Fleet has not been established, however, Zorran, Zebedee and Zak are heard persuading him to escape from the flames in the episode Munitions. Puffa speaks with a mix of a British Midlands and Cockney accents.
Like many other non-boat characters and faceless boats in the Tugs series, he communicates with a megaphone, which sticks out of his cab window.
Basis
Puffa is seemingly based on a BR 80 heavy-duty tank engine of German design, but modified with many American features including an American-style whistle, oil-burning headlight, diamond smokestack and a cowcatcher. He does not have front buffers. However, he has rear buffers to match the British rolling stock.
His other features however suggest he was modified from a Marklin model locomotive, which seems likely as Marklin supplied components for many of the model engines on TUGS' sister show, Thomas & Friends.
Behind The Scenes
Puffa's model was built from a Marklin model locomotive which was modified with many American features. His model was Gauge One, which is the same gauge used for the models of the sister series; Thomas & Friends
Appearances
Voice Actors
He is a good train, pursued by a bad train.
He is an albatross, who can fly.
Trivia
In Salty's Lighthouse, Puffa was briefly referred to as "Chooch"
It is currently unknown where Puffa's model is, since it was never seen in the sister show of TUGS; Thomas & Friends.
Puffa was the only engine in TUGS which had a speaking role.
Community content is available under
CC-BY-SA
unless otherwise noted.