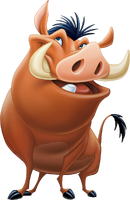 Pumbaa is a warthog from The Lion King. Between him and Timon, he is the true brains of the duo.
He is a Starfish
He played Larry The Cucumber in AnimalTales (Davidchannel's Version)
He is a cucumber
He is a werewolf
He Played Barney Rubble In The Flintstones (TheTureDisneyKing Animal Style)
He Is A Stone Age
He played Barney in Pumbaa & Friends
He is a Dinosaur 
He is a lost boy
He is a dwarf
He played The Sultan in Kermiladdin
He is a sultan
He is a sheepdog
He is a tiger
He played Little Brother in Nala (Mulan)
He is a dog
He is a flying bison
He is a turtle
He is a ram
He is a fat boy
He and Timon are bears
He played Obelix in Timonix
He is a Bulldog
He is a rock monster
He played SkyTrain Mark I #121
He is a playable with Hudson
He played SkyTrain Mark I #144
He is a non-playable
He is a horse
He Is A Mighty Powerful Gods
Portrayals:
Voice Actors:
Ernie Sabella - English (1994-present)
Seth Rogen - English (2019 live action film)
Gallery:
Trivia
His appearances in the Stephen Squirrelsky and Friends' Movie Spoof Travels are Sleeping Beauty (Justin Quintanilla's Style), Aurorastasia, Despicable Me (Justin Quintanilla's Style), Jimmynocchio, and The Wizard of Oz (Uranimated18's Style) and will even be in more movie spoof travels.
Community content is available under
CC-BY-SA
unless otherwise noted.