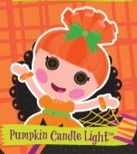 Pumpkin Candle Light is the best candy collector in all of Lalaloopsy Land. Her favorite things to eat are sweet potatoes and anything that's orange. She has the largest candy collection in Lalaloopsy Land. Her name is based off her love for big round orange pumpkins, as well as the flickering candle light that can be seen through it once it is carved!
About Pumpkin
Appearance
Pumpkin is a brown skinned Lalaloopsy with bright, soft pink cheeks and black button eyes; and freckles. Her hair is a burnt orange in color with straight cut bangs and curls of hair worn in a single bunch at the center of her head and held with a bright green bow. She wears a bright orange dress with puff sleeves and balloon skirt with a black smiling pumpkin face in the center, along with a thin green band around her waist. On each wrist, she wears an orange bracelet. Also worn is a pair of orange and white boots and a pair of dark orange and green socks.
Pet
Pumpkin's pet is a pink-purple spider with black facial details and orange hair worn with a black bow. Each foot is black, which may be shoes.
Trivia
Gallery