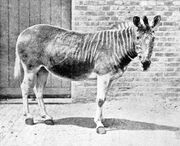 Since Dutch settlement of South Africa began, the quagga (Equus quagga quagga) was heavily hunted as it competed with domesticated animals for forage. While some individuals were taken to zoos in Europe, breeding programs were not successful. The last wild population lived in the Orange Free State, and the quagga was extinct in the wild by 1878. The last captive specimen died in Amsterdam on 12 August 1883. Only one quagga was ever photographed alive and only 23 skins are preserved today. In 1984, the quagga was the first extinct animal to have its DNA analysed, and the Quagga Project is trying to recreate the phenotype of hair coat pattern and related characteristics by selectively breeding Burchell's zebras.
Roles
Gallery
Books
Community content is available under
CC-BY-SA
unless otherwise noted.