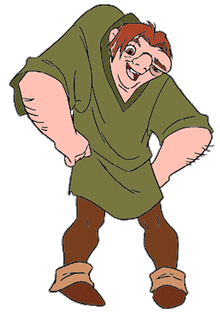 Quasimodo is the main protagonist in Walt Disney's 34th animated classic, The Hunchback of Notre Dame and its less successful 2002 direct-to-video sequel. He is the son the two unknown ill-fated gypsies from the beginning of the film, Madellaine's boyfriend, Frollo's ex-foster son, and the very best friend of Esmeralda, Phoebus, Zephyr, Clopin, and the three gargoyles, Victor, Hugo, and Laverne. In the franchise, he was originally voiced by Tom Hulce.
He is a scarecrow
Quasimodo played Fagin in Tod and Company and Cody and Company
He is a street man
He is an English Settler
Quasimodo played Ozzie in Over The Animated Hedge
He is a mute and beardless dwarf
He is a toy dinosaur
He is a dwarf
He is a dwarf
He is a crab
He is a baboon
He is a huntsman
He is a mail delivery guy
He is a chef
He is a duke
He is a badger
Quasimodo played Moses Puloki in D.W. and Lucifer
He is a hula teacher
He is a bear
He is an Indian
He is an orangutan
Quasimodo played SkyTrain Mark I #102
He is a hostage with Sadler from Exile (Sega Genesis) as Thayne Prouten.
He is a Gelfling and the male protagonist
He is a shy red-nosed bell-ringer (reindeer)
Quasimodo will play Rod Redline in People 2 (Cars 2)
Portrayals:
Gallery: