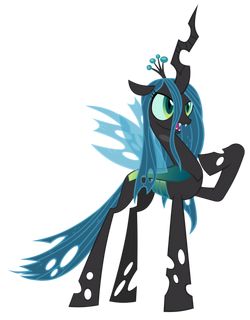 She is a character from "My Little Pony: Friendship is Magic".
She is an Dark Kingdom queen
She is a hyena
Queen Chrysalis played Scarlett in Total Drama Pahkitew Island (RebeccaTheSorceress' Version)
She is an Intelligent Contestant, who is a Mad Scientist with Excellent Intelligence Level and wears Glasses.
She is a ghost
She is Gadget's evil twin
Queen Chrysalis played Trakeena in Power Ponies Lost Galaxy
She is a Bug-Themed Villainess
She is a Dog
Gallery
Community content is available under
CC-BY-SA
unless otherwise noted.