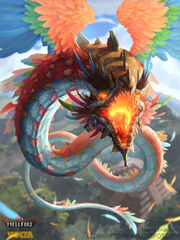 Quetzalcoatl forms part of Mesoamerican literature and is a deity whose name comes from the Nahuatl language and means "feathered serpent". The worship of a feathered serpent is first documented in Teotihuacan in the first century BC or first century AD. That period lies within the Late Preclassic to Early Classic period (400 BC – 600 AD) of Mesoamerican chronology, and veneration of the figure appears to have spread throughout Mesoamerica by the Late Classic period (600–900 AD).
Roles
Gallery
Community content is available under
CC-BY-SA
unless otherwise noted.