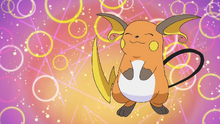 Raichu (Japanese: ライチュウ Raichu) is an Electric-type Pokémon. It evolves from Pikachu when exposed to a Thunder Stone. It is the final form of Pichu. In Alola, Raichu has a regional variant that is Electric/Psychic.
Voice Actors:
User L.T. Surge:
User Katrina:
Gallery:
Community content is available under
CC-BY-SA
unless otherwise noted.