Brucesmovies1's movie-spoof of 1995 movie "Rainbow".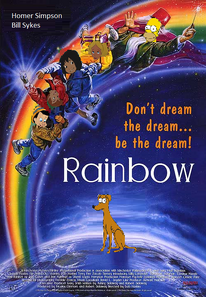 Cast
Frank Bailey - Homer Simpson (The Simpsons)
Mike Bailey - Pinocchio (Pinocchio)
Steve Bailey - Peter Pan (Peter Pan)
Pete - Mowgli (The Jungle Book)
Tissy - Alice (Alice in Wonderland)
Mutt - Santa's Little Helper (The Simpsons)
Jackie Bailey - Cinderella (Cinderella)
Sam Cohen - Prince Eric (The Little Mermaid)
Sheriff Wyatt Hampton - Bill Sykes (Oliver and Company)
Deputy Head - Fagin (Oliver and Company)
Mrs. Williams - Nanny (101 Dalmatians)
Stan - Maurice (Beauty and the Beast)
Jack the Prophet - Merlin (The Sword in the Stone)
Bob - Timothy Q. Mouse (Dumbo)
Keefe Russell - Jerry Seinfeld (Seinfeld)
Libby Evans - Elaine Benes (Seinfeld)
Community content is available under
CC-BY-SA
unless otherwise noted.