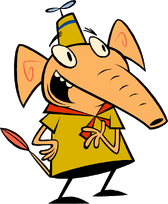 Raj is an elephant from Camp Lazlo.
Raj played Elephant Abu in Victorladdin
He is abu's elephant form
Portrayals:
Camp Elmo (DaveGrruly) he is played by Digit
Gallery
Trivia
His appearances in the Stephen Squirrelsky and Friends' Movie Spoof Travels are Cloudy with a Chance of Meatballs (Justin Quintanilla's Style), Finding Alvin (J.B. Eagle's Style), Animated Tale (TheTure DisneyKing's Style), The Forest Book 2 (TrainBoy43's Style), Nikki's Adventures of Sing Along Songs Episode 10, Madagascar (FamousImagination50's Style), Sleeping Beauty (Justin Quintanilla's Style), Aurorastasia, Despicable Me (Justin Quintanilla's Style), We're Back!: A Jungle Animal's Story, Jimmynocchio, and The Wizard of Oz (Uranimated18's Style) and will even be in more movie spoof travels.