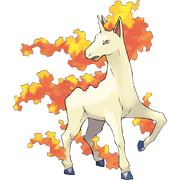 Rapidash (Japanese: ギャロップ Gyaroppu) is a Template:Type-type Pokémon introduced in Generation I. It has a Template:Type/Template:Type-type Galarian Form introduced in Generation VIII.
Biology
Physiology
Rapidash is a cream-colored, equine Pokémon with red eyes and a long horn atop its head, similar to a unicorn. Its mane and tail are comprised of red and yellow flames, while smaller embers trail from its fetlocks.
Behavior
Rapidash is rather competitive and tends to have a rash nature. The fastest Rapidash will be chosen as its herd's leader, which determines the direction the herd is heading and the speed its herd runs.
Galarian Rapidash is intrepid and resolute, taking pride in its abilities on being able to dash across the forests with the psychic powers stored in the hair around its hooves.
Natural abilities
Rapidash can dash at a high speed across vast lands. It is also one of the fastest Pokémon, with a top speed of 150 mph. Its flaming mane can burn glowingly under high speed boost.
Galarian Rapidash can conjure psychic blades, projections and projectiles through its horn, which are destructive enough to create massive holes through solid metal.
Habitat
They are quite rare in the wild and can be found mostly in Kanto, although sightings in Sinnoh, Johto and Unova have occasionally been reported.
Galarian Rapidash are reported to be sighted in woods and forests like Glimwood Tangle in Galar.
Evolution
Rapidash is the evolved form of Ponyta at level 40.
Game info
Game locations
Template:Game Locations
Pokédex entries
Template:PokédexEntry
Stats
Template:PokéStats
Learnset
Leveling
Rapidash
Galarian Rapidash
TM/HM
Breeding
Template:Noegg
Tutoring
Sprites
Template:SpriteGallery
Appearances
Lara's Rapidash

Neesha's Rapidash

Red's Rapidash

Jon Dickson's Rapidash

Emily's Rapidash

Rapidashtwo
Trivia
Due to its fiery mane and tail, petting Rapidash is hard in

Pokémon-Amie

, because the flames will burn the player's hand.
Shiny Rapidash originally had purple flames instead of gray ones. Its pre-evolution

Ponyta

also has a shiny change.
Rapidash and its pre-evolution,

Ponyta

, are the only Pokémon with the

Run Away

ability that are

Template:Type

-type.
Origin
Rapidash appears to be based on unicorns due to the horn on its head. It also may be based on different fire horses in mythology such as those found in Greek and Hindu mythology.
Galarian Rapidash appears to be based on more modern depictions of unicorns, making them appear more magical and cute.
Etymology
Rapidash may come from rapid, ash, and dash.
Galarian Rapidash's species name, Unique Horn, is a pun on "unicorn".
Gallery
Kantonian Form
Galarian Form
Template:ReferencesTemplate:Regional form Template:GenInavTemplate:FamilyTemplate:PokémonPrevNext
Poses
it:Rapidash