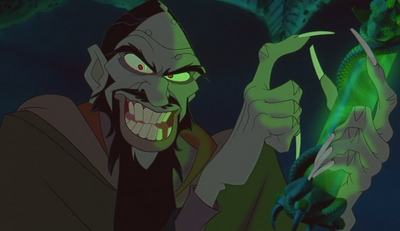 Rasputin is the scariest man in Anastasia.
Voice Actors:
Christopher Lloyd - English
Jim Cummings (Singing Voice) - English
Haruhiko Jo - Japanese
German Robles - Spanish
Joachim Kemmer - German
Pierre Auger - French
Mario Desmarais - French
Richard Darbois - French
Nis Bank Mikkelsen - Danish
Tibor Kristóf - Hungarian
Dov Reiser - Hebrew
Rasputin played Merle Gogan in
Rasputin played The Emperor in ?????????
He is an Evil Grasshopper
He is an evil lion 
He is a huntsman
Rasputin Played Tzekel Kan In The Road To Go Wild (TureDisneyKing Style)
He is a maneless lion
He is a snake
He is a vulture
Rasputin Played Captain Crocodile In Mickey Hood
Potrayals
In Vixeystasia he is played by Steele
In Dustystasia (Princekodi) he is Played by Black Wolf
In D.W. (Anastasia) he is Played by John Worthington Foulfellow (Honest John)
In Nalastasia and Destinystasia he is Played by Shere Khan
In Webbystasia he was played by Metal Beak
In Teodorastasia (1997) He is played by Jafar
In Isabellastasia he is Played by Judge Claude Frollo
In Vanessastasia he is Played by Cat R. Waul
In Beauty and the Tyrannosaur, he play Gaston.
Gallery:
Relatives
Wife-Ludmilla
Daughters-Rita Repulsa, Rainie Cowart-Gassen
Sons-Austin and Chad Wilson, Roan Cowart
Son in law-Dustin McCann Sr.
Step-grandson-Dustin McCann Jr.
Granddaughter-Sadie Beuttel
Grandson-Max Graham
Community content is available under
CC-BY-SA
unless otherwise noted.