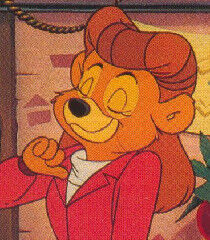 Rebecca Cunningham is a character from "TaleSpin." She is Molly's very attractive, unbearably beautiful and insanely sexy mother and the owner of "Higher For Hire".
She is a sorceress
She is a mother
She is a mouse
She is Qu
She is William.s Lover
She is a pirate
She is a genie
In Pooh Pan, she played as Mary Darling
She is a mother
In Sailor Rebecca, she played as Serena/Sailor Moon
She is a sailor scout
She is a Hen
She is a Warrior
In Baloo (Shrek) She Played Fiona (Orge)
She is an Orge
She is an Arabian Princess
She is a Russian Princess
She is an Indian
She is Ariel's Older Sister
She is Rescue Ranger Mouse
She is Ariel's Late Mother
In Cindylan She Played Fa Li
She is a Mother
She is the Wife of Stoick and Hiccup's Mother
She is a Pokemon Doctor
She is Ash's Mom
She is Ash's Best Friend
In Sailor Amber She Played Ray aka
She is the 3rd Sailor Scout
She is a Chipette
Portrayals:
Gallery:
Community content is available under
CC-BY-SA
unless otherwise noted.