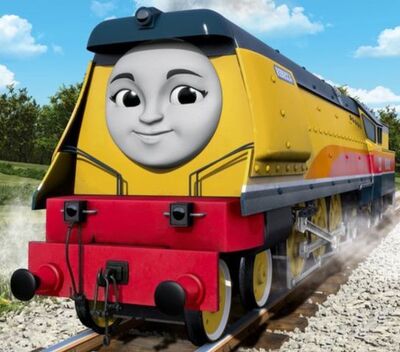 Rebecca the Happy Engine is a Thomas the Tank Engine and Friends character who debuted in the twenty-second season. She is a large tender engine who was brought from the British mainland to the Island of Sodor and is Gordon the Big Engine's girlfriend.
Biography
Thomas & Friends
Rebecca first arrived on the Island of Sodor after Henry moved out of Tidmouth Sheds and Sir Topham Hatt wanted another engine to help with Gordon and the Express, though she arrived a day earlier than what Sir Topham Hatt expected and nearly bumped him and Winston off the rails when she tried to stop at Knapford. Her first job was to pull the express, though she caused a small mishap when she accidentally collected Flying Scotsman's passengers at Vicarstown early. After hearing how the other engines mentioned how fast and strong they were, Rebecca decided that she would leave the stations early to prove how she can get things done fast, but this caused a lot of confusion and the passengers got angry. Sir Topham Hatt scolded her at the end of her first day about what was happening and Rebecca apologised for what she did, making up for it and even surprising the Flying Scotsman.
Rebecca met Belle, Marion, and Harvey and complimented them on their respective special features (Belle's water cannons, Marion's digger, and Harvey's crane), only to feel as if she was not special due to not having one. After hearing Duck mention that the crew at the Sodor Steamworks "can do anything", Rebecca went there to get the features fitted on her, but to no avail. Thomas and Marion helped Rebecca realise that complimenting others and making them feel good about themselves is her special quality.
When Sir Topham Hatt arrived asking for an engine to take the Troublesome Trucks, Thomas, James, and Percy placed the special's responsibilities on Rebecca, leaving the entire Steam Team concerned about their tricks. Contrary to expectations, she pulled them just fine, leaving the trucks confused and Thomas, James and Percy in their own predicaments. She arrived back at Tidmouth Sheds almost bumping Sir Topham off the rails.
In an attempt to get the other diesels into trouble for a change, Diesel had Rebecca do their jobs improperly. Unfortunately, he did not count on her honesty and he was punished by Sir Topham Hatt.
Later in Emily to the Rescue, during a practice emergency drill, Rebecca went to get Rocky, however ended up in an accident with James and Percy - who were also going to get Rocky - on the way.
Personality
Rebecca, a yellow tender engine, comes from the Mainland. Rebecca is not afraid to stand up for herself and isn't intimidated by the older engines. Plus she's Gordon's long lost daughter
Technical Details
Basis
Rebecca is based on the Southern Railway "West Country" class, a class of 4-6-2 tender locomotive designed by Oliver Bulleid and built between 1945 to 1951. These engines were used as mixed-traffic locomotives, and were used for a wide variety of jobs. Ten members of the class have been preserved, with one of them even working on the Bluebell Railway.
Livery
Rebecca is painted yellow and navy with white lining. Her wheel rims are painted white, her front end is painted red and she has red and orange stripes painted along her sides. Rebecca also carries two blue nameplates with white writing, and the letters NWR written on her tender.
Gallery
Rebecca the Happy Engine/Gallery
References
Community content is available under
CC-BY-SA
unless otherwise noted.