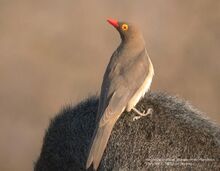 The red-billed oxpecker (Buphagus erythrorhynchus) is a passerine bird in the starling and myna family, Sturnidae; some ornithologists regard the oxpeckers to be in a family by themselves, the Buphagidae. It is native to the savannah of sub-Saharan Africa, from the Central African Republic east to South Sudan and south to northern and eastern South Africa. Its range overlaps that of the less widespread yellow-billed oxpecker. The red-billed oxpecker nests in tree holes lined with hair plucked from livestock. It lays 2–5 eggs, with three being the average. Outside the breeding season it forms large, chattering flocks. The preferred habitat is open country, and the red-billed oxpecker eats insects. Both the English and scientific names arise from this species' habit of perching on large wild and domesticated mammals such as cattle and eating ticks.
Roles
Gallery
Books
See Also
Community content is available under
CC-BY-SA
unless otherwise noted.