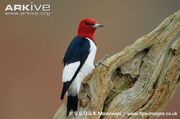 The red-headed woodpecker (Melanerpes erythrocephalus) is a small or medium-sized woodpecker from temperate North America. Their breeding habitat is open country across southern Canada and the eastern-central United States. The species is listed as Near Threatened by the IUCN. The red-bellied woodpecker also has its most prominent red part of its plumage on the head, but it looks quite different in other respects. Adults are strikingly tri-colored, with a black back and tail and a red head and neck. Their underparts are mainly white. The wings are black with white secondary remiges. Adult males and females are identical in plumage. Juveniles have very similar markings, but have an all grey head. While red-bellied woodpeckers have some bright red on the backs of their necks and heads, red-headed woodpeckers have a much deeper red that covers their entire heads and necks, as well as a dramatically different overall plumage pattern. These are mid-sized woodpeckers. Both sexes measure from 19 to 25 cm (7.5 to 9.8 in) in length, with a wingspan of 42.5 cm (16.7 in). They weigh from 56 to 97 g (2.0 to 3.4 oz) with an average of 76 g (2.7 oz). Each wing measures 12.7–15 cm (5.0–5.9 in), the tail measures 6.6–8.5 cm (2.6–3.3 in), the bill measures 2.1–3 cm (0.83–1.18 in) and the tarsus measures 1.9–2.5 cm (0.75–0.98 in). The maximum longevity in the wild is 9.9 years. They give a tchur-tchur call or drum on territory.
Gallery
See Also
Community content is available under
CC-BY-SA
unless otherwise noted.