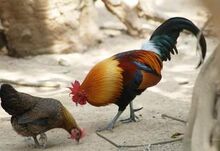 The Red Junglefowl (Gallus gallus) is the ancestor of chickens. It ranges from Northern Pakistan and Northern India to Indonesia. It can also be found in China and The Philippines. During the mating season the male sounds is the famous "Cock-a-doodle doo" call or crowling. The male Junglefowl has longer tail feathers. and the females have shorter ones.
Roles
Gallery
Books
See Also
Community content is available under
CC-BY-SA
unless otherwise noted.