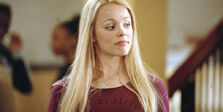 Regina Mackenzie George
is the lead antagonist of the movie
Mean Girls
. She is portrayed by Rachel
McAdams.
Regina George is a character that is controlling, deceiving, belittling and mean, capable of doing everything in her power to get that she wants. Regina George was not just another high school bully- she is also referred to as the "Queen Bee", and the original leader of the currently fallen Plastics.
Actors
Rachel McAdams (Film)
Taylor Louderman (Musical; debut)
Quotes
"Gretchen, Stop trying to make Fetch Happen, It's Not going to Happen"
"Oh My God, I Love your Bracelet, When did you get it?"
Portrayals
Community content is available under
CC-BY-SA
unless otherwise noted.