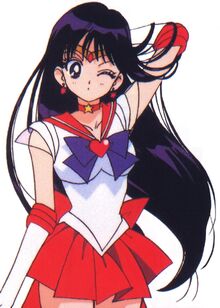 Sailor Mars is one of the five original Inner Sailor Senshi of the Solar System, and was the fourth Sailor Senshi introduced in the manga. Her civilian identity is Rei Hino (Raye Hino in the original English Dub). Her attacks are based around fire, psychic powers and spiritual powers. She also has the ability to fly (she can even carry others while in flight). This is the original depiction of the character originally created by Naoko Takeuchi.
Powers:
Fire Control: Sailor Mars can control fire
Flight: Rei can fly high in the sky. She can even carry others while flying.
Levitation: Rei can propel herself upwards and levitate in the sky. She can even fly while levitating.
She played Happy in

Ash White and the Seven Girls (Hiatt Grey Style)
She played Thumbelina in Reilina
She played Smitty in

Kitana (Dumbo)
She played Wendy in Sonic Pan
She played Peter Pan in

Sailor Mars Pan
She played Powdered Toast Man in Sailor Mars Girl
She played Mavis in

Hotel Transylvania (Luke Yannuzzi Style)
She played Kiara in

The Anime King 2: Akira's Pride
She played Sakura Haruno in Theodoruto
She played Jessie in Toy Story 2 (1985Movies Style)
She played Lady Tottington in Ash and Pikachu and the Curse of the Gyarados
She played Farmer Paul's Wife in The Secret of NIMH 170Movies
She played Shinobu in Ninja Nonsense spoof for 160Movies
She played Melody in The Little Mercury 2
She played Rita In Animaniacs For Chris1705 Style
She played Mrs. Brisby in

The Secret of NIMH (Chris1705 Style)
She played Mei Mei In Kung Fu Panda 3 (1983Movies Style)
She Played Kitty Katswell In T.U.F.F Ketchum for Chris2015
She played Tanya Mousekewitz In

An American Tail (Chris1703 Style)
She Played Princess Daisy in

Super Darien Kart Double Dash
she is a Princess and Luigi (aka Ash) Love Insterst
She played Googie In

Timon Doo
she is a ????
She played In

Basil Doo and the R
She played Sailor Moon In Sailor Mars (158Movies Style)
She is leader
she is Photographer
She played Naru Osaka In Sailor Venus (Chris1988 Style)
She is Serena's Clasemate and Best friend
She is a Genius
She is Clemont's Little sister
She is Simba's girlfriend/mate, and Kiara's mother.
She played Honoka Kosaka In

Love Live! School Idiol (Chris1703 Style)
She is a beautiful white cat.
She played Rini Chibiusa Tsukino /Sailor Mini Moon/Small Lady Serenity In Sailor Jupiter (165Movies Style)
She is the future of Serena and Darien.
She Played Red-Haired Girl In

Forster's Home of Imaginary Rodents
She played Dawn In Pokemon Diamond and Pearl (220Movies Style)
She played Velma Dinkley In Pongo Doo Franchise
She played Tiger Lily in Ash Pan (Isa the Godess of Gachatopia style)
She will play Professor Marvel in

The Wizard of Oz (TR22P Male Style)
She Played Abigial Roberts In

Red Dead Redemption 2 (TheBluesRockz Style)

and

Red Dead Redemption (TheBluesRock Style)
she is John's Wife and Jack's Mother
she is ???'s Little sister
Voice Actors:
Portrayals:
Gallery: