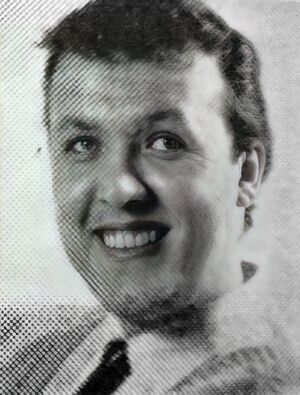 Reino Bäckman (May 30, 1937, Helsinki - 1990, Vantaa) was a Finnish musician, music producer and director who directed the Finnish-language dubs of Disney films between 1966 and 1974.
Bäckman performed as a musician under the name Little Ray. He was seen as a bassist in the restaurant ensemble Sissit (1963) and Hopeaa rajan takaa (1963). For some time, he was in the band Erkki Ertama. As a musician, he was versatile as he played other instruments along with bass and sang, composed and lyrics. In the 1960s, Bäckman worked as production manager for the record company Westerlund. He was later managing director of the EMI Finland Department. Bäckman concocted Finnish words on many well-known pieces of translation, such as "Oi niitä aikoja". In 1973, Bäckman founded his own record company Reeb Oy. The company released both light and classical music. The company was renamed Polarvox in 1976.
For Disney, Bäckman directed Finnish dubbings of animated films and soundtracks published on LP discs.
Roles
Trivia
It is unknown what happened to him after the release of the Finnish dub of Robin Hood, it is possible that the dub itself ended his career.
Community content is available under
CC-BY-SA
unless otherwise noted.