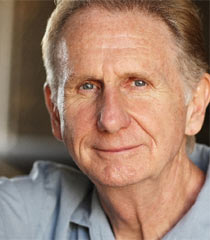 René Murat Auberjonois (/rəˈneɪ oʊˈbɛərʒənwɑː/; June 1, 1940 - December 8, 2019) was an American actor and singer. In films, Auberjonois has portrayed Father Mulcahy in MASH (1970), the expedition scientist Roy Bagley in King Kong (1976), and Chef Louis in The Little Mermaid (1989), in which he sang "Les Poissons". In the American animated musical comedy film Cats Don't Dance (1997), Auberjonois lent his voice as Flanagan, the human film director of "Li'l Ark Angel". In various long-running television series, Auberjonois portrayed a number of characters, including: Clayton Endicott III on Benson (for which he was nominated an Emmy Award), Odo on Star Trek: Deep Space Nine, and Paul Lewiston on Boston Legal. He has also branched out into voice acting for video games, having appeared in a number of popular video games. He portrayed the Greek mythological figure Talos in the first God of War (2005) game, the enigmatic Mr. House in Fallout: New Vegas (2010), Karl Schafer in the Uncharted video game series, and Odo in Star Trek Online.
Voices:
Chef Louis - The Little Mermaid
Pepe Le Pew - Looney Tunes
Flannigan - Cats Don't Dance
Community content is available under
CC-BY-SA
unless otherwise noted.