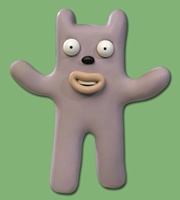 History
Rex was first introduced as a minor character in Ident (1989), a short film directed by Richard Goleszowski for the Lip Synch series. He would be devolped more into a character (a long with the rest of his friends) in 3 Short Films, "How Dinosaurs Became Extinct" & "Dreams" from 1992, and "North by North Pole" from 1996/7, the latter of which would be reused for the third episode of Season 1.
In Season 1 (and the shorts) he was voiced by Andrew Franks (an Aardman Worker), however, Colin Rote voiced him in Season 2.
Bio
Rex is the main character of the show, a timid, irritable runt. He is quick-witted and usually comes up with plans to get out of the scrapes the gang finds themselves in. However, he can also annoy the others by being a smart aleck. He is also massive fan of superhero Rocket Raymond, which is reviled more in Season 2.