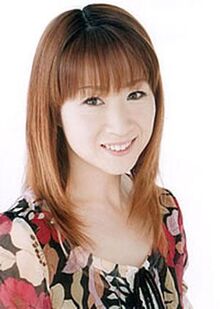 Rica Fukami (深見 梨加 Fukami Rika, born August 8) is a Japanese voice actress and narrator from Kyoto Prefecture who is affiliated with Vi-Vo. She made her voice acting debut in 1982 with Tokimeki Tonight. Fukami is best known for her role in the Sailor Moon series as Sailor Venus. She had major roles in Final Fantasy XII (as Fran), Ashita no Nadja (as Carmen la Bailaora), Ninja Senshi Tobikage (as Schaffe) and New Cutey Honey (as Daiko Hayami). In addition to anime shows, she provides the Japanese dub localization for numerous international film and television actors including Catherine Zeta-Jones, Angelina Jolie, Sharon Stone and Jodie Foster.
Voices
Mina/Sailor Venus - Sailor Moon
Ivy - Where on Earth is Carmen Sandiego
Linka - Captain Planet
Foxy Loxy - Chicken Little
Nellie Brie - An American Tail: The Mystery of the Night Monster
Carmen - Ashita no Nadja
Trivia
Both Rica Fukami and Emi Shinohara, who played Sailor Jupiter share the same exact birthday.
Community content is available under
CC-BY-SA
unless otherwise noted.