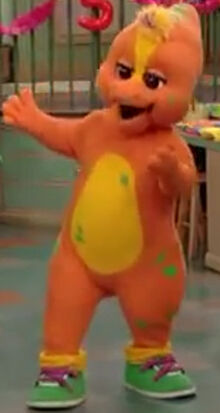 Riff (Boris EnRica) (born June 19, 2000) is a six-year-old orange Hadrosaur who is Baby Bop and BJ's cousin and a good friend of Barney's. Riff made his first appearance in the 2006 Barney home video Let's Make Music. Riff was "officially" introduced on the Barney & Friends Television series in the episode Welcome, Cousin Riff. That same year, Riff was added to the Barney live show Barney Live! - The Let's Go Tour (which had been on tour months before he was added). Riff's all about music. He hears music everywhere he goes. His theme song is none other than I Hear Music Everywhere and a six-year-old Hadrosaur & a cousin to Baby Bop from Barney and Friends.
Trivia:
Riff, along with Barney, BJ, and Baby Bop will meet Team Robot for the first time start their own adventure in Kids World's Adventures Series.
Portrayals:
Voice Actors:
Michaela Dietz - English
Costume Actors:
Adam Brown (2006-2007)
Jeff Ayers (2008)
Jared Harris (2008-Present)
Gallery:
Community content is available under
CC-BY-SA
unless otherwise noted.