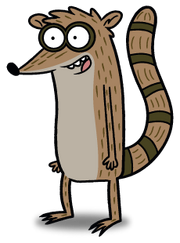 Rigby is a raccoon from "Regular Show".
Gallery
Portrayals
Rigby played Walking Car in

Cartoon Animal Story
Rigby played Sleepy in

Sharpears White and the Seven Toon Animals
Rigby and Mordecai played the Frog and Salamander in The Great Rabbit Detective
Rigby Played Scratch in

The Raccoon and Anne Boonchuy (The Ghost and Molly McGee)
Rigby played Miguel in Steven Universe The Road To El Dorado
He's a Power Ranger
Trivia
His appearances in the Stephen Squirrelsky and Friends' Movie Spoof Travels are Cloudy with a Chance of Meatballs (Justin Quintanilla's Style), Finding Alvin (J.B. Eagle's Style), Animated Tale (TheTure DisneyKing's Style), The Forest Book 2 (TrainBoy43's Style), Nikki's Adventures of Sing Along Songs Episode 10, Madagascar (FamousImagination50's Style), Sleeping Beauty (Justin Quintanilla's Style), Aurorastasia, Despicable Me (Justin Quintanilla's Style), We're Back!: A Jungle Animal's Story, Jimmynocchio, and The Wizard of Oz (Uranimated18's Style) and will even be in more movie spoof travels.