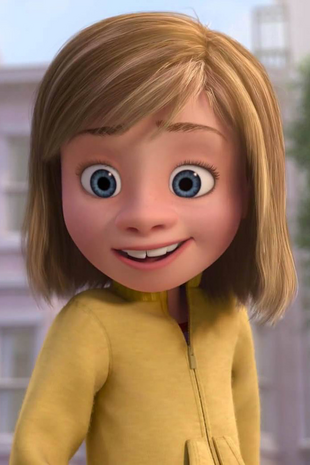 Riley Andersen is a major character in the 2015 Disney/Pixar animated film Inside Out. She is a twelve year old girl (eleven during the film) who loves ice hockey. She was uprooted from her happy and simple life in Minnesota and taken to San Francisco, California, where she experiences various changes in her life. Her emotions (Joy, Sadness, Fear, Disgust and Anger) help her through this tough time, ensuring her well-being.
She is a teen girl
She is a magic hair
Mary Jane Watson is an actress who grew up next door to Peter Parker.
Originally portrayed by Kirsten Dunst.
She is a broadway actor
She is a girl.
She plays Lizzie McGuire in Riley McGuire
She is a farm girl
Voice Actress
Kaitlyn Dias - Teen (English)
Dakota Fanning - Young Adult (English)
Kirsten Dunst - Adult (English)
Megan Nicole - Teen Singing (English)
Rachel Platten - Adult Singing (English)
Relatives
Portrayals
Riley is played by Tomira in Inside Out (The Care Bear Team Style), Inside Out (WarnerBrosandNelvanaFan Style), Inside Out (The Invasion CTW Style), Inside Out (1945 Ultimate Style), Inside Out (Soleil Spacebot, Sarah Spacebot, and Sally Spacebot Style), Inside Out (1994 Ultimate Style), Inside Out (SuperLooneyDude Style), Inside Out (Penelope Pussycat Style), Inside Out (1961 Deitch Style), Inside Out (CBS Movies Style), Inside Out (LooneyBomberDude420 Style), Inside Out (2009 Ultimate Style), Inside Out (LooneyTunesVideoShowRockz Style), Inside Out (LooneyTunesTheCareBearsFamilyRockz Style), Inside Out (Looney Tunes Fantastic Island Adventure Style) & Inside Out (Nelvana Limited Totally Adventure Style)
See Also
Riley Anderson Cartoon Animated
Gallery: