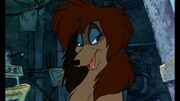 Rita is a character from Oliver and Company.
She played Sarah Harding Jurassic Park II: The Lost World (PrinceBalto Style)
She is an animal expert
She is a young girl and Gru's eldest adopted daughter.
She played Mrs. Donner in

Tramp the Red-Nosed Dog
She played Vonna in

The Naked Cage (PrinceBalto Animal Style)
She played Rebecca Cunningham in Talespin (PrinceBalto Style)
She is a beautiful she-bear
She played Jeannie Conway in

Deadly Friend (Nikkdisneylover8390's Animal Style)
She is Paul's concerned mother
She played Princess Jasmine in Dodgerladdin
She is an Arabian princess
She is Robert's girlfriend and helper
She is a beautiful woman
She is a woman from the Earth Kingdom
She played Cinderella in

Ritarella
She played Shantae in 

Rita and the Pirate's Curse

 and 

Rita: Half Genie Hero
She played Mary Poppins In Rita Poppins
She played Princess Tiger Lily In Dodger Pan
She is a frog
She is 
She works for Hades
She played Sarabi in The Tramp King
She is the mother of Simba
She played Sally Acorn in

Dodger the Dog (SatAM)
She is a Squirrel/Chipmunk Hybird
She is a bird
She was trained by Thanos to be an assassin. Later she redeems.
Portrayals
Gallery