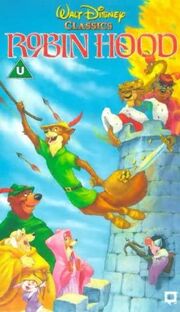 Robin Hood is a 1998 VHS.
Chapters:
Opening Credits
"Oo-de-lally"
Fortune-Telling Robbers
Bad Times In Nottingham
Skippy's Arrow
Young Love
An Archery Tournament In Nottingham
Let The Tournament Begin!
Off With His Head!
It Seems Like Only Yesterday ("Love")
"The Phony King Of England"
"Not In Nottingham"
The Scaffold
The Rescue
A Happy Ending
Previews:
Green FBI Warnings
Walt Disney Home Video 1992 bumper
Coming Soon to Theaters bumper
Mighty Joe Young trailer
Disneyland Paris 1998 trailer
Coming Soon to Own on Videocassette bumper
Walt Disney Video Classics Commercial
Mulan trailer
101 Dalmatians
Collect Mickey's Ears commercial (Valid until February 15, 1999)
Feature Presentation (Thanks for Joining us for this Special Preview) Logo
Walt Disney Masterpiece Collection logo
THX bumper
Walt Disney Pictures logo
Buena Vista logo (with Robin Hood music)
Printdate:
November 11, 1998.
Community content is available under
CC-BY-SA
unless otherwise noted.