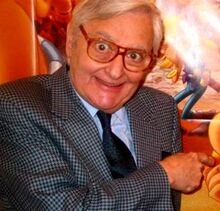 Roger Carel (born Roger Bancharel on August 14, 1927 in Paris, France) is a French actor and voice talent, best known for his recurring film roles as Asterix or the French voice of Star Wars' C3PO and the French voice of Winnie the Pooh. He is also dubbing David Suchet as Hercule Poirot in Agatha Christie's Poirot. He used to voice Wally Gator, Mickey Mouse and Woody Woodpecker in French.
Voice Acting:
French Voices
Jiminy Cricket - Pinocchio, Fun and Fancy Free, Mickey's Christmas Carol
Timothy Q. Mouse - Dumbo
Bernard - The Rescuers, The Rescuers Down Under
Basil of Baker Street - The Great Mouse Detective
Winnie the Pooh, Piglet, Rabbit - Winnie the Pooh series
C3PO - Star Wars
Gurgi, Creeper, King Eidilleg - The Black Cauldron
Kaa - The Jungle Book
Petrie - The Land Before Time series
Boomer - The Fox and the Hound
Community content is available under
CC-BY-SA
unless otherwise noted.