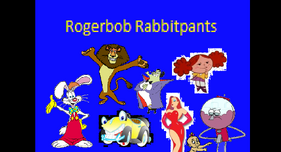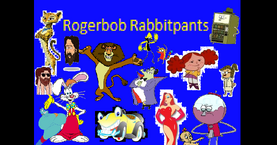 Cast
Spongebob Sqaurepants - Roger Rabbit (Who Framed Roger Rabbit)
Patrick Star - Benny the Cab (Who Framed Roger Rabbit)
Squidward Tentacles - Benson (Regular Show)
Squilliam Fancyson - Gene (Regular Show)
Mr. Krabs - Alex (Madagascar)
Pearl - Princess Morbucks (The Powerpuff Girls)
Mrs. Puff - Gia (Madagascar 3: Europe's Most Wanted)
Sandy Cheeks - Jessica Rabbit (Who Framed Roger Rabbit)
Larry the Lobster - Genie (Aladdin)
Plankton - Hacker (Cyberchase)
Karen - Elieen (Regular Show)
Karen 2.0 - Coco LaBouche (Rugrats in Paris: The Movie)
Gary the Snail - Baby Herman (Who Framed Roger Rabbit)
Patchy the Pirate - Grunkle Stan (Gravity Falls)
Potty the Parrot - Iago (Aladdin)
Mermaidman - Mordecai (Regular Show)
Barnacle Boy - Rigby (Regular Show)
Dirty Bubble - Garrett Bobby Ferguson (Regular Show)
Manray - Garrett Bobby Ferguson Jr. (Regular Show)
Kenny the Cat - Catbug (Bravest Warriors)
The Rogerbob Rabbitpants Movie
Spongebob Sqaurepants - Roger Rabbit (Who Framed Roger Rabbit)
Patrick Star - Benny the Cab (Who Framed Roger Rabbit)
Squidward Tentacles - Benson (Regular Show)
Mr. Krabs - Alex (Madagascar)
Mrs. Puff - Gia (Madagascar 3: Europe's Most Wanted)
Sandy Cheeks - Jessica Rabbit (Who Framed Roger Rabbit)
Gary the Snail - Baby Herman (Who Framed Roger Rabbit)
Plankton - Hacker (Cyberchase)
Karen - Elieen (Regular Show)
King Neptune - Skips (Regular Show)
Mindy - Betty Boop (Betty Boop)
Squire - High Five Ghost (Regular Show)
Dennis - Judge Doom (Who Framed Roger Rabbit)
Cyclops - Reptar (Rugrats)
Monsters of Shell City - The Weasels (Who Framed Roger Rabbit)
David Hasselhoff - Big Timmy Turner (The Fairly Odd Parents)
The Rogerbob Movie: Rabbit Out of ToonTown
Spongebob Sqaurepants - Roger Rabbit (Who Framed Roger Rabbit)
Patrick Star - Benny the Cab (Who Framed Roger Rabbit)
Squidward Tentacles - Benson (Regular Show)
Mr. Krabs - Alex (Madagascar)
Mrs. Puff - Gia (Madagascar 3: Europe's Most Wanted)
Pearl - Princess Morbucks (The Powerpuff Girls) (Only in Credits)
Sandy Cheeks - Jessica Rabbit (Who Framed Roger Rabbit)
Gary the Snail - Baby Herman (Who Framed Roger Rabbit)
Plankton - Hacker (Cyberchase)
Karen - Elieen (Regular Show)
Burger Beard - Jean Claude (Rugrats in Paris: The Movie)
Seagulls - Rainbow Dash, Applejack, Twilight Sparkle, Fluttershy, Pinkie Pie, Rarity, Sunset Shimmer and Derpy (My Little Pony: Friendship is Magic) (The Seagulls are not Females)
Squidasaurus Rex - Robo Snail (Rugrats/Rugrats in Paris: The Movie)
Trivia
The reason why Benson is Squidward it's because they are both high-tempered, have a big nose, long, lanky, and a rounded head.
The LAST reason why Princess Morbucks is Pearl, it's because they both like being bratty and always getting whatever new stuff they REALLY want. But if Princess Morbucks don't have whatever she wants in new episodes, Roger Rabbit and Alex will might have to pay.
Community content is available under
CC-BY-SA
unless otherwise noted.