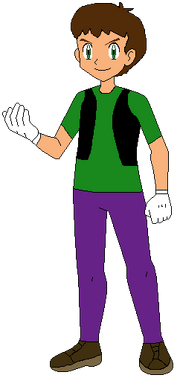 Ronald is a character of the television show, Pepe Le Pew and Penelope Pussycat: The Romantic Adventures. He appears in Rosemary Hills, making his debut in Romantic for Fantastic.
Voice Actors:
Scott Menville - English
Appearance:
Slender, fair skin, curly red hair, black crop top that bares her midriff, blue jeans, black and white shoes, and yellow Roger Rabbit gloves.
Personality:
His personality is known for brave, smart, handsome, truthful, and loves being with his girlfriend, Catherine.
Quotes:
How could this happen to me?
Gallery: