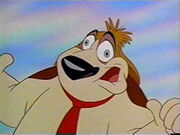 Rover Dangerfield is a smooth-talking bassett hound who was raised by his owner, Connie, a Las Vegas showgirl. But when her jealous boyfriend, Rocky throws him over the Hoover Dam, Rover ends up in a farm where he meets a boy named Danny and a beautiful collie named, Daisy.
Rover plays himself in The Secret of NIMH (Dogs Version)
Rover plays Artemis in Sailor Moon spoof for 1955Movies
Rover Played Koga In Pokemon ????
Rover Played Monty In Copper 'n Tod Rescue
Rover Played The In Krunk Ing 1955Movies spoof
Rover Played Darien Shields In Sailor Moon Spoof for 155Movies
Portrayals:
Gallery:
Community content is available under
CC-BY-SA
unless otherwise noted.