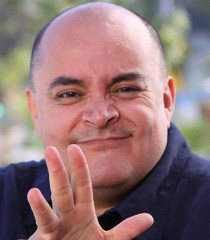 Ruben Trujillo (Mexico, June 21, 1965) is an actor and broadcaster of Mexican origin. His stage name is Trujo . He is the brother of actor and TV presenter Victor Trujillo . He is married to actress dubbing Cynthia Alfonzo and father of Alberto Trujillo and Andrea Trujillo , who also engaged in the specialization of voice-over and combine with other artistic areas. He is known to double the Genie in the saga of Aladdin, Hades in Hercules, Donnagon Giggles in Spy Kids, Oscar Proud in The Proud Family, Pleakley in the saga of Lilo and Stitch, Balto in the first film of Balto and Gloin in movies of The Hobbit .
Voices:
Genie - Aladdin
Hades - Hercules
Balto, Boris - Balto
Drix - Osmosis Jones
Pleakley - Lilo & Stitch
Oscar Proud - The Proud Family
Clinton, Alex, Tyler, Dennis, Father Gremlin - The Monster Clubhouse
Community content is available under
CC-BY-SA
unless otherwise noted.