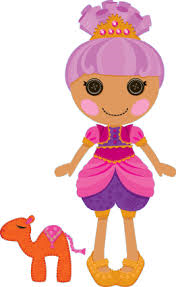 Sahara Mirage is one of Lalaloopsy Land's more exotic residents! She's a real charmer, who's scared of the dark, and always pops up when she's least expected. Sahara is the older sister of little Pita Mirage. Her name is based off of the real life Sahara Desert, as well as mirages which are illusions one experiences when exposed to the desert heat for too long!
About Sahara
Appearance
Sahara Mirage is a dark skinned girl with carnation pink cheeks that stands out against her dark skin. She has normal black button eyes. Sahara's hair is lavender pink and pulled back in a ponytail bun held with a golden tiara with multiple crimson red rubies. Her bangs are neatly pulled back with a few loose strands of her hair that is curled down.
Normally she's dressed in genie attire, consisting of a violet purple velvet sleeveless body suit outfit with puffed shorts and sunshine yellow cuff-like pieces. She wears a magenta blouse with short puff sleeves over her top, a matching sash piece around her waist and a cloth resembling a skirt going around the back. Sahara has a sunshine yellow slip attached on her shoes resembling sandals.
Pet
Sahara's pet is a tangerine orange camel that her eyes are closed. She wears a bright pink cloth seat on its hump. Her tail is carnation pink in color.
Home
Sahara lives in the desert. She's surrounded by pretty sparkly sand and her home resembles an Arabian palace. She also has many round pillows and carpets surrounding the entrance.
Trivia
January 13th is Make Your Dream Come True Day.
Sahara's fear of the dark is a light-hearted joke referring to a genie's imprisonment in a magic lamp.
Sahara, Swirly, Lady, and Coral are the only generation 2 characters not in the show.
Sahara Mirage was introduced along with Misty Mysterious and Marina Anchors.
Gallery
Main article: Sahara Mirage/Gallery