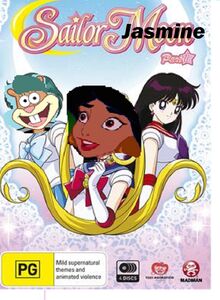 Luke Yannuzzi's TV spoof 1st version of Sailor Moon (English Adaption). It will appear on YouTube in the near future, not only to celebrate the 20th Anniversary of its show in Japan, but to celebrate the 20th Anniversary of its show in English Dub in DIC/Cloverway in 1995. A cast video just appear on March 3, 2015. https://www.youtube.com/watch?v=-om56th50fQ
Cast:
Serena/Sailor Moon - Jasmine (Aladdin)
Amy/Sailor Mercury - Sandy Cheeks (Spongebob Squarepants)
Raye/Sailor Mars - Herself
Lita/Sailor Jupiter - Olivia Flaversham (The Great Mouse Detective)
Mina/Sailor Venus - Brittany Miller (Alvin and the Chipmunks)
Darien/Tuxedo Mask - Aladdin
Rini/Sailor Mini Moon - Shanti (The Jungle Book 2)
Molly Baker - Gogo Tomago (Big Hero 6)
Melvin - Hiro Hamada (Big Hero 6)
Luna - Sawyer (Cats Don't Dance)
Artemis - Danny (Cats Don't Dance)
Diana - Marie (The Aristocats)
Queen Beryl - Maleficent (Sleeping Beauty)
Jedite - Himself
Neflite - Count Dracula (Scooby Doo and the Reluctant Werewolf)
Prince Endymion (Bad) - Evil Aladdin (Aladdin)
Zirconia - Hades (Hercules)
Seasons:
Movies:
Trivia:
Like the original series, this series will be produced with 159 episodes. It will also have English Dub movies.
Gallery:
Community content is available under
CC-BY-SA
unless otherwise noted.