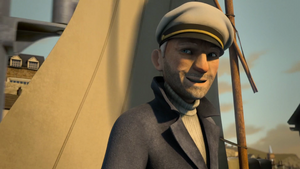 Sailor John is Skiff's former owner, and a pirate obsessed with finding treasure. He is the main antagonist in the Thomas the Tank Engine and Friends movie, Sodor's Legend of the Lost Treasure.
Bio
After Thomas discovered the Pirate Ship, Sailor John converted his sailboat, Skiff, to run on rails, in order to search for the pirate treasure. He met Thomas as he was searching around the area the ship had been found at, and he began to help him try to find the treasure. However, when they could not find the treasure, Sailor John immediately turned against Thomas, believing he had found the treasure first. Upon finding out that Sir Topham Hatt had the treasure and was planning on giving it to the museum, Sailor John blew up his office at Knapford and stole the treasure chest, as well as rigging up the pirate ship as an escape vehicle, causing Thomas to chase after him. Despite numerous attempts to try and stop Thomas, Sailor John could not do anything to stop him until the tank engine fell into the sea. He was finally defeated after Skiff capsized, causing him to lose the treasure chest when it sank to the bottom of the sea. He was then arrested by the police.
Relationships
Appearances: Tan skin, white hair, grey mustache and beard, white captain hat, grey shirt, dark blue coat, black pants, black sneakers
Personality: Evil, mean, rude
Goal: To take the pirate treasure chest home (failed)
Gender: Male
Alignment: Bad
Allies: Skiff (formerly)
Fate: Getting arrested by the policemen and taken to jail
Voice Actors
Gallery
Community content is available under
CC-BY-SA
unless otherwise noted.