1970Movies spoof of Sailor Moon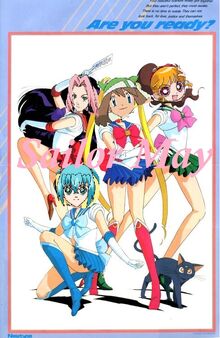 Cast:
Serena/Sailor Moon - May (Pokemon)
Amy/Sailor Mercury - Runo (Bakugam Battle Brawlers)
Raye/Sailor Mars - Sakura Haruno (Naruto)
Lita/Sailor Jupiter - Hyper Blossom (The Powerpuff Girls Z)
Mina/Sailor Venus - Raye Hino (Sailor Moon)
Darien/Tuxedo Mask - Drew (Pokemon)
Queen Beryl - Shelly (Pokemon)
Jedite - Himself
Molly Baker - Emmy (Dragon Tales)
Melvin Butler - Tim (The Boss Baby)
Maxfield Staton - Himself
Zoycite - Jessie (Pokemon)
Malachtie - James (Pokemon)
Rini/Sailor Mini Moon - Sakura Avalon (Cadcaptor Sakura)
Trista/Sailor Pluto - Serena (Pokemon)
Amara/Sailor Uranus - Sailor Moon
Michelle/Sailor Neptune - Mina/Sailor Venus (Sailor Moon)
Hotaru/Sailor Saturn - Lana (Pokemon)
Zirconia - Klaus Vorstein (The Chipmunks Adventures)
Tiger's Eye - Rothbart (The Swan Princess)
CeleCele - Blossom (The Powerpuff Girls)
ParaPara - Bubbles (The Powerpuff Girls)
JunJun - Buttercup (The Powerpuff Girls)
BesuBesu - ???
Seasons:
Trivia:
The Main Reason Drew Played ??? is because they begin with the letter and both have a Rose
The Main Reason Sakura Haruno Played ???? Becasue they're both ???heads
This spoof will be Used 159 Episodes
Gallery:
Community content is available under
CC-BY-SA
unless otherwise noted.