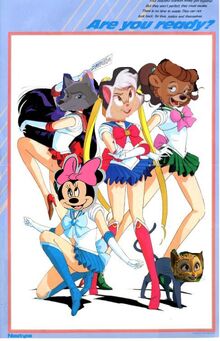 Chris1704's TV spoof 1st version of Sailor Moon (English Adaption). It will appear on YouTube in the near future, not only to celebrate the 20th Anniversary of its show in Japan, but to celebrate the 20th Anniversary of its show in English Dub in DIC/Cloverway dub in 1995.
Cast:
Sailor Moon - Sawyer (Cat's Don't Dance)
Sailor Mercury - Minnie Mouse (Disney)
Sailor Mars - Aleu (Balto)
Sailor Jupiter - Rebbeca Cunnigham (Talespin)
Sailor Venus - Wendy Darling (Peter Pan)
Tuxedo Mask - Danny (Cat's Don't Dance)
Mini Moon - Becky Tatcher (Tom Sawyer)
Artemis - Alex (Madgascar)
Luna - Gia (Madgascar)
Diana - Tigress (Kung fu Panda)
Queen Beryl - Madame Mousey (An American Tail)
Jedite - Red (All Dogs go to Heaven)
Ikuko Tsukino - Duchess (The Aristocats)
Kenji Tsukino - Thomas O'Malley (The Aristocats)
Sammy Tsukino - Oliver (Oliver and Company)
Greg - Mickey Mouse (Disney)
Crane Game Joe - Baloo (The Jungle Book)
Chad - Copper (The Fox and the Hound)
Andrew - Wooly the Mammoth
Rita - Mrs. Jumbo (Dumbo)
Haruna - Georgette (Oliver and Company)
Katie - Olivia Flaversham
Mika Cassidy - Cadpig
Raye's Grandpa - ???
Seasons:
Trivia:
Gallery:
Community content is available under
CC-BY-SA
unless otherwise noted.