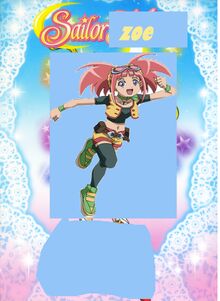 DinosaurKingRockz's TV spoof 1st version of Sailor Moon (English Adaption). It will appear on YouTube in the near future, not only to celebrate the 20th Anniversary of its show in Japan, but to celebrate the 20th Anniversary of its show in English Dub in DIC/Cloverway in 1995.
Cast:
Serena/Sailor Moon - Zoe Drake (Dinosaur King)
Amy/Sailor Mercury - Buttercup (The Powerpuff Girls)
Raye/Sailor Mars - Pocahontas
Lita/Sailor Jupiter - Bubbles (The Powerpuff Girls)
Mina/Sailor Venus - Blossom (The Powerpuff Girls)
Darien/Tuxedo Mask - Max Taylor (Dinosaur King)
Rini/Sailor Mini Moon - Bonnie (Pokemon)
Molly Baker - Becky Lopez (George Shrinks)
Melvin - George Shrinks
Luna - Baby Bop (Barney & Friends)
Artemis - Barney (Barney & Friends/Dismaland The Movie)
Diana - Cera (The Land Before Time)
Queen Beryl - Carmen Sandiego (Where on Earth is Carmen Sandiego)
Jedite - Clayton (Tarzan)
Neflite - Jafar (Aladdin)
Zoycite - Shego (Kim Possible)
Malachite - Dr. Drakken (Kim Possible)
Helen Lambert - Ariel (The Little Mermaid)
Shakoukai - Hydia (My Little Pony: The Movie)
Trista/Sailor Pluto - Gadget Hackwrench (Chip 'n Dale Rescue Rangers)
Hotaru/Sailor Saturn - Little Suzy (Johnny Bravo)
Amara/Sailor Uranus - Dee Dee (Dexter's Laboratory)
Michelle/Sailor Neptune - Penny Proud (The Proud Family)
Morga - Herself
Flau - Sedusa (The Powerpuff Girls)
Seasons:
Movies:
See Also:
Trivia:
This is the first TV show of DinosaurKingRockz.
Luna was Baby Bop in Artemis & Friends.
Gallery:
Community content is available under
CC-BY-SA
unless otherwise noted.