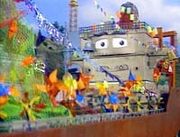 Scally is a charming and welcoming visiting ship who brought treasures as cargo into the harbour. When he gave the tugs some of his treasures, it didn't take long for them to cause confusion so they decided to return their treasures to Scally.
Persona
Scally can be described as a charming and welcoming container ship who is really friendly, agreeable and very courteous in front of the tugs by offering them some of his treasures.
Appearance
Scally's Treasures
Theodore gets a windspinner, Hank a big, huge, orange bumper, Emily a smokestack extension, Foduck a siren, and Bedford a fishing hat.
Trivia
Scally's superstructure was sold on eBay.
Scally's model base and superstructure was recycled from Freda's.
Gallery