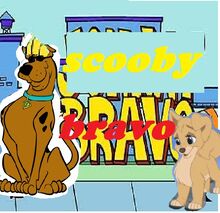 TheBluesRockz's TV-spoof of Johnny Bravo (1997). It will appear on YouTube in the near future.
Cast:
Johnny Bravo - Scooby Doo
Little Suzy - Angel (Lady and the Tramp 2: Scamp's Adventure)
Bunny Bravo - Georgette (Oliver and Company)
Carl - Spongebob Squarepants
Pops - Papa Mousekewitz (An American Tail)
Scooby Doo - Chip (Chip 'n Dale Rescue Rangers)
Shaggy Rogers - Baloo (The Jungle Book)
Fred Jones - Basil (The Great Mouse Detective)
Daphne Blake - Mrs. Brisby (The Secret of NIMH)
Velma Dinkley - Duchess (The Aristocats)
The Mayor - Mayor of Townsville (The Powerpuff Girls)
Dino - Toby (The Great Mouse Detective)
Mary - Dixie (The Fox and the Hound 2)
Master Hama - Mr. Ages (The Secret of NIMH)
Seasons:
Trivia:
This is the 14th TV show of TheBluesRockz.
Both Spongebob and Carl were voiced by Tom Kenny.
This will be dedicated to Larry Drake (1950-2016).
Gallery:
Community content is available under
CC-BY-SA
unless otherwise noted.