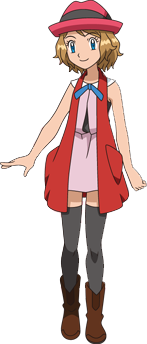 Serena (Japanese: セレナ Serena) is a traveling companion of Ash and an aspiring Pokémon Performer, who debuted in "Kalos, Where Dreams and Adventures Begin!" Her first Pokémon was a Fennekin that she received from Professor Sycamore.
She played Princess Fiona (Ogre) in Ash (Shrek)
She is an ogre
She is a Fire Nation Noble
She is a recurring role
She is a Chinese princess
She is a mouse
She is a squirrel
She is a princess
She is Max's friend
He is Max's mom
She played Bridget in An American Tail Spoof Ooglyey
She is a Mouse
She is an emotion
She is an old lady
She is a chipmunk
She is a leopard
She is a blonde haired girl
She is Fievel's mother
She is a chipmunk
She is David's mom
She is Gus' mom
She played Queen Tabitha in Rinilina
She is a fairy queen
She Played Perdita Shrinks in Tori Shrinks
She is
She is a three-horn
She is Pacha's wife
She is Milo's love interest
She is Kakeru's Girlfriend
She played Hera in Toricules
She is a god.
She is a Jeannie.
She Played Ise In Bleach (Ooglyeye Style)
She is a ????
She Played Raye Hino in Sailor Moon Spoof for 1987Movies
She is a Shrine Maiden.
She Played Hinata Hyuga in Ashruto Ashruto Shippuden and

Toriruto: Ash the Next Generation
she is Naruto's Love Instert
She Played Future Mai In

Dragon Ball Super (400Movies Style)
Voice Actors:
Portrayals:
Gallery: