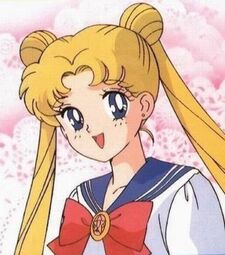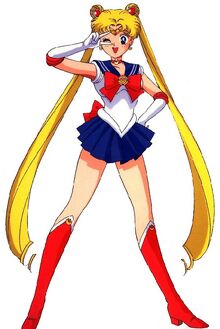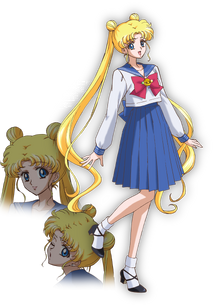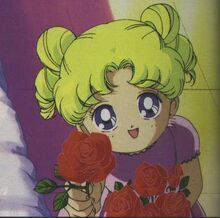 Serena Tsukino is the cute, ditzy, attractive and very beautiful main character and hero in Sailor Moon series.
Voice Actors:
Tracey Moore (Episodes 1-11, 15, 21) - English
Terri Hawkes (Episodes 12-14, 16-20, 22-82, movies) - English
Linda Ballantyne (Episodes 83-159) - English
Jennifer Cihi (Singing Voice) - English
Stephanie Sheh (VIZ) - English
Kotono Mitsuishi (Episodes 1-43, 51-200) - Japanese
Kae Araki (Episodes 44-50) - Japanese
Patricia Acevedo - Spanish
Sabine Bohlmann - German
Inez Günther - German
Sylvie Jacob - French

Anouck Hautbois

- French
Elisabetta Spinelli - Italian
Federica De Bortoli - Italian (Shin Vision)
Michal Reshef - Hebrew
Hadar Shahaf - Hebrew
She is a mermaid
She played Dee Dee in

Ash's Laboratory
She played The Baby Baboon in Linusarzan
She played Snow White in

Sailor Moon White and the Seven Animals (PokemonFan

and Sailor Moon White and the Seven Heroes
She played Merryweather in

Sleeping Beauty (Brian Griffin Style)
She played Blonde-Haired Mermaid in Brian Pan
She played May in

Pokemon Advanced Generation (190Movies Human Style)
She played Bunny Bravo in Rai Bravo
she is a Pink Hedgehog
She played The Rooster in Home On The Anime Forest and

Home on the Tree Town
She played Human Ariel in The Little Wild Animal and

The Little Wild Animal 2
She played Etta in Barnyard (My Version) and

Barnyard (TV Series) (My Version)
She played Serena in

Pokemon XY (1961Movies Style)
She played Sailor Bird in

Popeye the Sailor (MooBeard the Pirate)
She played Quasimodo's Mother in The Hunchback of Notre Dame Spoof for 143Movies
She played Lola in

Pokemon Chronicles (160Movies Human Style)
She played Miss Bellum In 170Movies
She played Grace in

Pokemon XY (154Movies Style)
She played Wilma In The Chibas chris1812
She played Adult Kiara In The Japan King 2:Kenji's Pride (397Movies Style)
She played Ali in The Land Before Time Series (1984Movies Human Style)
She played Princess Toadstool In

The Adventure of Super Mario Bros 3 (Chris1703 Style)

and

Super Mario World (1991) (Chris1703 Style)
She played Trista Meioh/Sailor Pluto In Sailor Mars (158Movies Style)
she is a red Squirrel
She is a Sailor Scout or Serena's Class mate and best friend
She played Sakura Haruno In Ashruto In Ashruto Shippuden and

Tori: Ashruto Next Generations
She is a memeber of Team 7
She played Fa Li In Rinilan
She is Cal's Ex.
She is a Chipette
Shie is Naruto's girlfriend and later wife.
Portrayals:
Gallery: