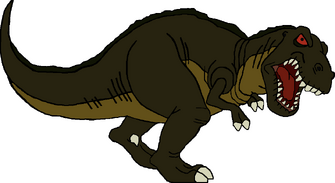 Sharptooth is the main villain from the original Land Before Time movie.
He is a bad tempered beast
Sharptooth played Rock Titan in Keiichicules
He is a Titan
Sharptooth played Tornado in The Wizard of Oz (DisneyStyle8)
He is a monster dog
He is a Evil Rotten Red Genie
Sharptooth played Nightmare in

Five Nights at Baloo's 4: The Final Chapter
He is an Evil Animatronic
Sharptooth played Snake Jafar in Todladdin, Charieladdin, Christopher Robinladdin and Tailsladdin (Badly Drawn Rainbow Style)
He is a Giant Cobra
Sharptooth played Gigantic Genie in Romeoladdin and Todladdin
He is a Giant Genie
He is a Green Pike
Sharptooth played Giant Spider in 

Hoodwinked Too! Hood vs Evil (TheWildAnimal13 Animal Style)
He is a Spider
He is a Kong
Sharptooth played Maleficent Dragon in Sleeping Kiara
He is a Black Dragon
He is a Grizzly Bear
Sharptooth played The Dragon in

The Prehistorcmaster
He is the Tan dragon
Sharptooth Played Stone Jaguar In The Road To Go Wild (TheTureDisneyKing)
He Is The Giant Living Jaguar Statue
He is a Murderer
He is a Monster
Sharptooth played Glut The Shark in

The Little Mer Princess Ana

 and

The Little Chun Li
He is a spooky rhino
Sharptooth played one of the Titans in Reefcules
He is a Titan
Sharptooth played one of the Alligators in Moat in The Evil Dragon Princess
He is an Alligator
Sharptooth played Cyclops in Kai-Lancules
He is a cyclops
He is Ludmilla's Dragon Form
Sharptooth played Robot Probe in

Animals VS Reptiles
He is a giant alien robot
Portrayal
in The Land Before Time (Hiatt Grey Style) Sharptooth is Played by Glasburgh Dragon
in The Land Before Cartoon Animal Time Sharptooth is Played by Godzilla
in The Land Before Time (Dineen Benoit Productions Style) Sharptooth is Played By Himself
In The Land Before Time series (Otto Gameplays13 version) he is played by Scar from The lion King.
Gallery: