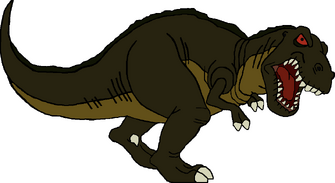 Sharptooth is the main villain from the original Land Before Time movie. In The Land Of Make Believe, he acts as Mechagodzilla (Showa).
He is a bad tempered beast
Sharptooth played Rock Titan in Keiichicules
He is a Titan
Sharptooth played Tornado in The Wizard of Oz (DisneyStyle8)
He is a monster dog
He is a Evil Rotten Red Genie
He is an Evil Animatronic
Sharptooth played Snake Jafar in Todladdin, Charieladdin, Christopher Robinladdin and Tailsladdin (Badly Drawn Rainbow Style)
He is a Giant Cobra
Sharptooth played Gigantic Genie in Romeoladdin and Todladdin
He is a Giant Genie
He is a Green Pike
He is a Spider
He is a Kong
Sharptooth played Maleficent Dragon in Sleeping Kiara
He is a Black Dragon
He is a Grizzly Bear
He is the Tan dragon
Sharptooh Played Stone Jaguar In The Road To Go Wild (TheTureDisneyKing)
He Is The Giant Living Jaguar Statue
He is a Murderer
He is a Monster
He is a spooky rhino
Sharptooth played one of the Titans in Reefcules
He is a Titan
Sharptooth played one of the Alligators in Moat in The Evil Dragon Princess
He is an Alligator
Sharptooth played Cyclops in Kai-Lancules
He is a cyclops
Portrayal
in The Land Before Time (Hiatt Grey Style) Sharptooth is Played by Glasburgh Dragon
in The Land Before Cartoon Animal Time Sharptooth is Played by Godzilla
Gallery:
Community content is available under
CC-BY-SA
unless otherwise noted.