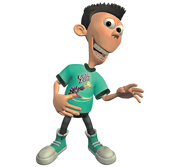 Sheen Estevez is a male character from Jimmy Neutron.
Sheen was also shown in Diary Of An MLG Noscoper
He is a sea sponge
He is a cucumber
Sheen played Gator in

Woody & Friends (Thomas & Friends)
He is a Monster Diesel
Sheen played Edwin Carbunkle in

Mr Mellmerd The Movie (Postman Pat The Movie)
He is a Evil Man
He is a cat
He is a Prince of the Galaxy
He is a chef
He is a Chicken
Nicktoons Nitro Racing
Sheen appears as a playable racer in Nicktoons Nitro Racing as a member of Jimmy's team. His rival racer is Judy Neutron, who is hypnotized by Timmy.
Portrayals:
Gallery: