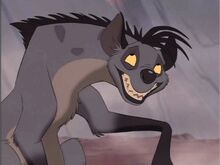 She is a Hyena from The Lion King
She is a agent of Team Rocket
She is an Mouse
She is an evil woman
She is a sea witch
She is an evil Fire Nation princess
She is a woman
She is a stepmother
She is a purple monster
She is a queen
She is mistress of all evil
She is a Kitten
She is a lizard
She is a witch
Shenzi Played Madame Mim in The Sword in the Stone (ilovecakeAJ Style)
She is Evil Genius
She,Banzai and Ed are a bat
Portrayals:
She is seen writing on a mountain-designed wall entering B,B,T,T for a special song teaser (later revealed as Bum Bum Tam Tam) of Just Dance 2019. (She didn't talk on this scene but she also drew these symbols (😎😎🍑🍑). Then the logo of Just Dance appeared on the bottom of the screen). She was announced to be the choreographer for the song Mayores in Just Dance 2019's Just Dance Unlimited but still not yet confirmed due to the song was still not yet officially released.
Gallery:
Community content is available under
CC-BY-SA
unless otherwise noted.